We supply large series of Carbon Fiber Rods/Tubes ( outer dia. from 0.5mm to 51mm), square tubes, rectangular tubes, profiles ,etc. Our Carbon Fiber Reinforced Plastic (CFRP) products are strong, light,rigid etc,unit length is also on your request
Our pultruded carbon sections offer the ultimate cost-effective carbon solution. Manufactured to high tolerances using either vinlyester or epoxy resins combined with carbon fiber in a continuous process our pultruded profiles offer extremely high strength and stiffness.

Our products are suitable for Tent , kites, toys, model, planes, tool handle, golfbags, golftraining nets,other sports apparatuses play a supporting role.
Product Feature:
Light Weight ,high Strength
High Corrosion Resistance
Wide Temperature Range Use
Consistent Cross Section
Environmentally Safe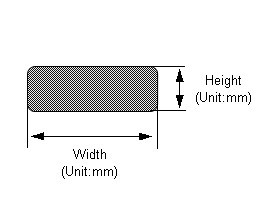 Carbon Fiber Flat

ITEM

Height
m/m
Width
m/m
Length
m/m
Weight
gram/Meter

SC-CF-01

0.2

2.0

1000

0.6

SC-CF-02

0.2

3.0

1000

0.9

SC-CF-03

0.3

3.0

1000

1.4

SC-CF-04

0.3

30.0

1000

13.5

SC-CF-05

0.4

10.0

1000

6.0

SC-CF-06

0.5

3.0

1000

2.3

SC-CF-07

0.5

4.0

1000

3.0

SC-CF-08

0.5

5.0

1000

3.8

SC-CF-09

0.5

10.0

1000

7.5

SC-CF-10

0.5

25.0

1000

18.8

SC-CF-11

0.6

3.0

1000

2.7

SC-CF-12

0.6

5.0

1000

4.5

SC-CF-13

0.8

7.5

1000

9.0

SC-CF-14

0.8

1.2

1000

1.4

SC-CF-15

0.8

2.4

1000

2.9

SC-CF-16

0.8

3.0

1000

3.6

SC-CF-17

0.8

7.5

1000

9.0

SC-CF-18

0.8

25.4

1000

30.5

SC-CF-19

1.0

3.0

1000

4.5

SC-CF-20

1.0

4.0

1000

6.0

SC-CF-21

1.0

5.0

1000

7.5

SC-CF-22

1.0

6.0

1000

9.0

SC-CF-23

1.0

10.0

1000

15.0

SC-CF-24

1.2

7.0

1000

12.6

SC-CF-25

1.2

100.0

1000

180.0

SC-CF-26

1.5

2.5

1000

5.6

SC-CF-27

1.5

6.0

1000

13.5

SC-CF-28

1.5

40.0

1000

90.0

SC-CF-29

2.0

5.0

1000

15.0

SC-CF-30

2.0

10.0

1000

30.0

SC-CF-31

2.0

12.0

1000

36.0

SC-CF-32

2.0

15.0

1000

45.0

SC-CF-33

2.0

19.0

1000

57.0

SC-CF-34

2.0

20.0

1000

60.0

SC-CF-35

2.0

23.0

1000

69.0

SC-CF-36

2.5

9.0

1000

33.8

SC-CF-37

2.5

25.0

1000

93.8

SC-CF-38

3.0

8.0

1000

36.0

SC-CF-39

3.0

8.5

1000

38.3

SC-CF-40

3.0

10.0

1000

45.0

SC-CF-41

3.0

12.0

1000

54.0

SC-CF-42

3.0

15.0

1000

67.5

SC-CF-43

3.0

25.0

1000

112.5

SC-CF-44

3.0

30.0

1000

135.0

SC-CF-45

3.3

11.0

1000

54.5

SC-CF-46

3.5

25.0

1000

131.3

SC-CF-47

3.5

40.0

1000

210.0

SC-CF-48

4.0

7.0

1000

42.0

SC-CF-49

4.0

15.0

1000

90.0

SC-CF-50

4.0

20.0

1000

120.0

SC-CF-51

4.0

25.0

1000

150.0

SC-CF-52

4.5

12.3

1000

83.0

SC-CF-53

5.0

12.0

1000

90.0

SC-CF-54

5.0

20.0

1000

150.0

SC-CF-55

5.0

30.0

1000

225.0

SC-CF-56

5.0

35.0

1000

262.5

SC-CF-57

5.0

37.0

1000

277.5

SC-CF-58

5.0

50.0

1000

375.0

SC-CF-59

6.0

20.0

1000

180.0

SC-CF-60

6.0

30.0

1000

270.0

SC-CF-61

6.8

16.3

1000

166.3

SC-CF-62

10.0

14.0

1000

210.0