We can offer series of fiberglass rods/tubes( outer dia. from 1.0mm to 80 mm), square tubes, rectangular tubes, FRP profiles ,etc. Our Fiberglass Reinforced Plastic (FRP) rod are strong, light, flexible, colorful etc.Our regular colors include black, gray, red, orange, yellow, white, green, blue, etc. we can offer any color according to customers' request. Unit length is also on your request, it could be from several millimeters to more than 30 kilometers (for small Dia rods )
All Pultruded Fiberglass Composite Profiles of ours have a surface veil and UV inhibitor to protect against glass fibers from penetrating the resin surface in service and to increase corrosion and UV resistance. These profiles are non-magnetic and show good electrical and thermal insulation properties which is transparent to radio waves . It is pound that our FRP profiles are stronger than aluminum in the lengthwise direction of the profile.
Our products are suitable for Tent , kites, toys, model planes,window shade,antennas, tool handle, golfbags, other sports apparatuses play a supporting role.
Light Weight ,High Strength
High Corrosion Resistance
UV Resistant Inhibited
Variety Of Colors For Choice
Wide Temperature Range Use
Consistent Cross Section
Environmentally Safe
Non-Conductive Thermally And Electrically
Non-Magnetic Electromagnetic
Ease Of Fabrication & Installation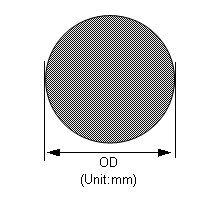 Fiberglass Round Solid Rod

ITEM

OD
m/m
Length
m/m
Weight
gram/Meter

SC-FR-01

1.0

1000

1.5

SC-FR-02

1.3

1000

2.5

SC-FR-03

1.5

1000

3.4

SC-FR-04

1.8

1000

4.9

SC-FR-05

2.0

1000

6.0

SC-FR-06

2.5

1000

9.4

SC-FR-07

2.8

1000

11.8

SC-FR-08

3.0

1000

13.5

SC-FR-09

3.2

1000

15.4

SC-FR-10

3.5

1000

18.4

SC-FR-11

4.0

1000

24.0

SC-FR-12

4.2

1000

26.5

SC-FR-13

4.5

1000

30.4

SC-FR-14

4.8

1000

34.6

SC-FR-15

5.0

1000

37.5

SC-FR-16

5.5

1000

45.4

SC-FR-17

6.0

1000

54.0

SC-FR-18

6.3

1000

59.5

SC-FR-19

6.5

1000

63.4

SC-FR-20

7.0

1000

73.5

SC-FR-21

7.5

1000

84.4

SC-FR-22

7.9

1000

93.6

SC-FR-23

8.0

1000

96.0

SC-FR-24

8.5

1000

108.4

SC-FR-25

8.8

1000

116.2

SC-FR-26

9.0

1000

121.5

SC-FR-27

9.5

1000

135.4

SC-FR-28

10.0

1000

150.0

SC-FR-29

10.5

1000

165.4

SC-FR-30

11.0

1000

181.5

SC-FR-31

12.0

1000

216.0

SC-FR-32

12.5

1000

234.4

SC-FR-33

12.7

1000

241.9

SC-FR-34

14.0

1000

294.0

SC-FR-35

15.0

1000

337.5

SC-FR-36

16.0

1000

384.0

SC-FR-37

18.0

1000

486.0

SC-FR-38

20.0

1000

600.0

SC-FR-39

22.0

1000

726.0

SC-FR-40

22.2

1000

740.6

SC-FR-41

25.4

1000

967.7

SC-FR-42

30.0

1000

1350.0

SC-FR-43

37.0

1000

2053.5

SC-FR-44

44.0

1000

2904.0

SC-FR-45

51.0

1000

3901.5

SC-FR-46

58.0

1000

5046.0